There are many ways you can learn English with news, including websites, apps, podcasts, and newspapers.
Whichever medium you prefer, listening to or reading English news is a fantastic way to learn new words, improve comprehension, and stay up-to-date with current affairs.
Here we will list our favorite news resources for English learners, as well as some tips for making the most of learning English in this way.
Why learn English through the news?
When you use written and spoken news to learn English you:
Test your understanding of words relating to different topics
Improve your listening skills
Expose yourself to different accents
Gain reading practice while learning about interesting topics
Stay up-to-date with what's going on in the world
In short, it's one of the best ways to learn English for free! So, let's get started looking at where you can find ESL news stories.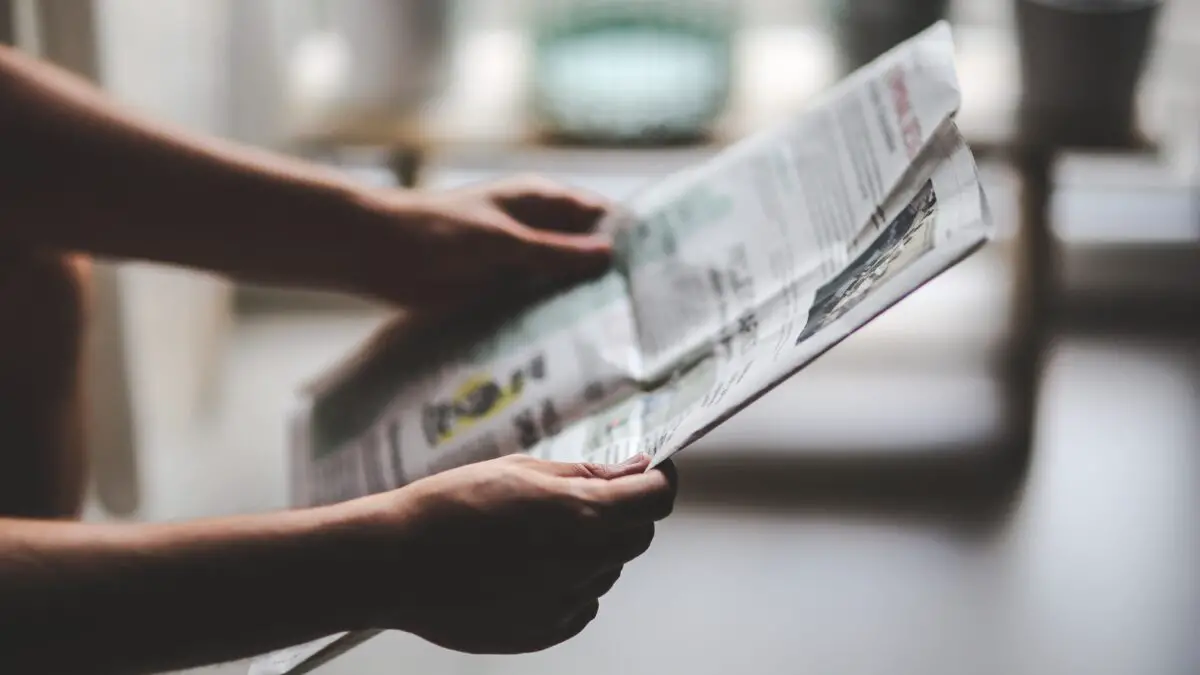 How to learn English with news websites and newspapers
Here are our tips to learn English by reading news articles or watching English videos with subtitles or a transcript.
1. Choose resources at your level
If you have tried reading or listening to English language news before and found it hard to understand, don't worry. It may just be that you need to try some different resources for your level.
We recommend beginning with ESL news websites that present news articles using language that is easier to read than those written for native speakers.
Here are some good websites to learn English by reading news online:
2. Introduce native-level news when you're ready
If you are already comfortable with intermediate or advanced level on some of the resources above, you can try moving on to news articles that are written for native English speakers.
These tend to be written at upper-intermediate to advanced level, although some publications use quite formal language while others adopt a more conversational tone.
Here are some high-quality publications where you can learn English with news written for native speakers:

3. Analyze the headline
Here's a good tip when you're reading news to learn English: Before you even glance at the article content, take a good look at the headline.
News headlines are typically written in a format that concisely conveys the topic of the news story. See if you can work out what the article is about just from reading the headline. Could you write it differently? Does it leave you with any questions that you hope the article will answer?
4. Make a note of new words and phrases
When you come across an unfamiliar word, try not to turn straight to a dictionary to look it up. Instead, write it down and continue reading. You may well be able to find out what it means from the context of the article, especially if it occurs several times (you can skim the article to check if it appears again).
When you get to the end, you'll probably have a list of words you want to learn. Now you can look up their meanings, discover some synonyms, and make sure you understand how they are used in the context of the news story.
5. Read about topics that interest you
Learning English with news is much more enjoyable and engaging if you read about topics that interest you. Whether it's a sport, a hobby, or a lifestyle interest, pick something you actually want to learn about. Equally, if you're learning business English then you'll find a wealth of news articles on this topic, and they will help immensely with advancing your vocabulary.
Most of the websites listed above have different categories for you to browse, but there are other specialist sites that cover individual topics in greater detail.
If you're interested in a different topic, just type it into a search engine and add the word 'news' to the end (e.g. "gaming news", "knitting news" or "bodybuilding news"). You'll find plenty of resources to keep you busy.
You can also check out some other great websites for learning English here.
6. Discuss the news with friends
Once you have read about something that interests you, don't keep it to yourself! It's even better if you can discuss the topic with an English-speaking friend. Ask their opinion about it, and see where the conversation leads you.
One of the many benefits of studying English is that you get to have interesting conversations with people from all over the world, learning more about their cultures and opinions on different topics.
Does listening to news improve your English?
Yes, absolutely! Listening to the news on the radio or via a podcast is another great exercise. It will stretch your English listening skills, especially if you listen to news broadcasts from various countries with different English accents.
Podcasts are especially good because you can access them from anywhere in the world, at any time of day. You can also adjust the playback speed and skip back to listen to certain parts as many times as you like.
Podcasts often involve informal conversations between news reporters too, so you can get used to listening to everyday spoken English. News reports, on the other hand, tend to be delivered in a formal way.
Here are some great places to listen to the news in English:
Check out some more podcasts for learning English.

Is reading the news a good way to learn a language?
Whether you're learning English or another language, news coverage is a great way to access free and varied topics to study. By exploring these resources with news for English learners, you can expand your vocabulary and learn about new topics in a natural and interesting way.
If you are a beginner, we recommend starting with an ESL news site. Once you progress further, you can continue to learn English with news channels or websites written for native English speakers.
Aim to read at least one news article per day, take notes of any new words, and do the accompanying activities or quizzes provided on the website.
Learning English with news is just one of many easy ways to learn English – check out this article for more ideas!